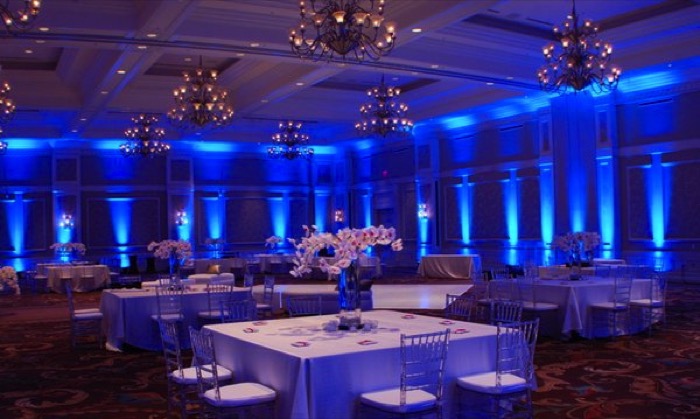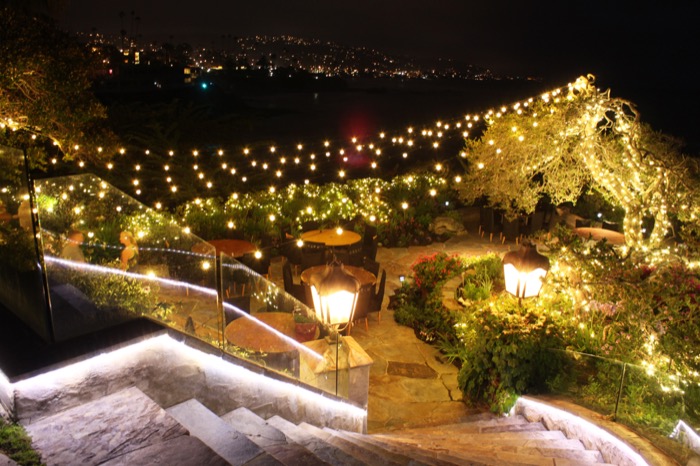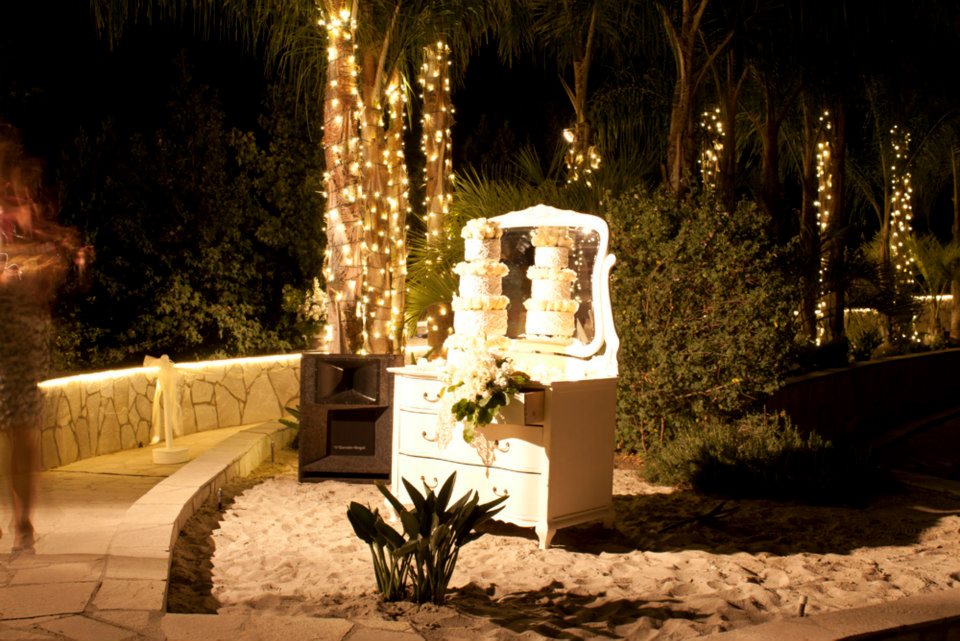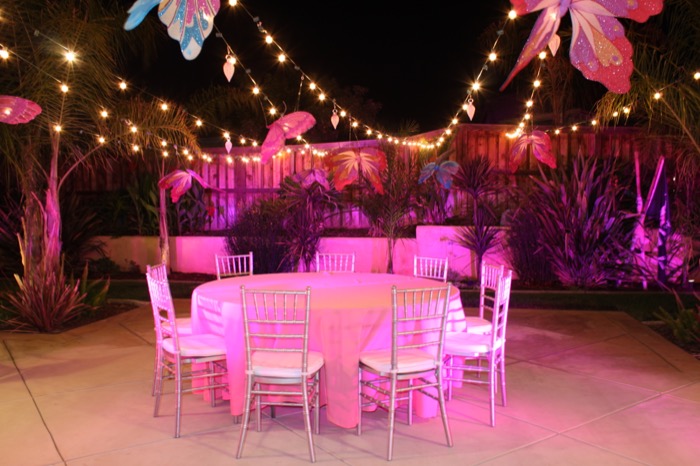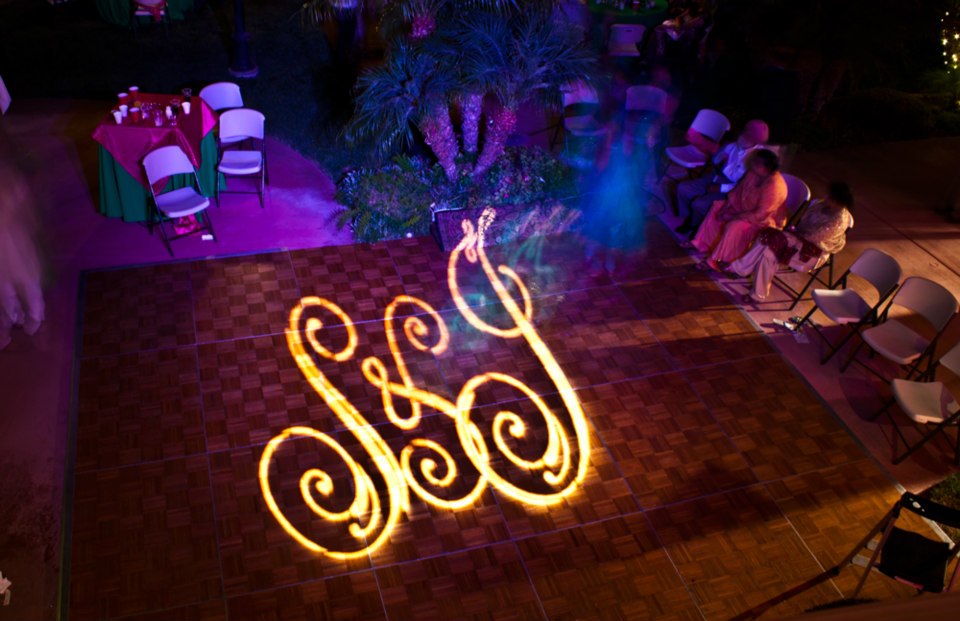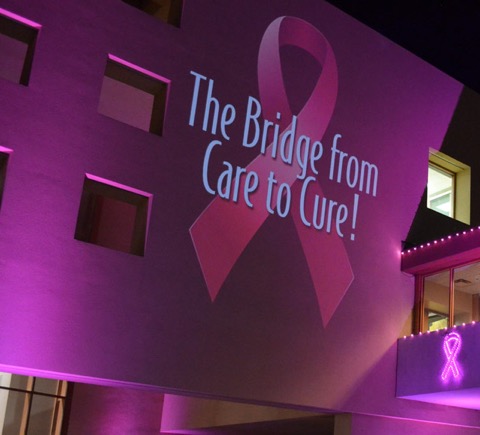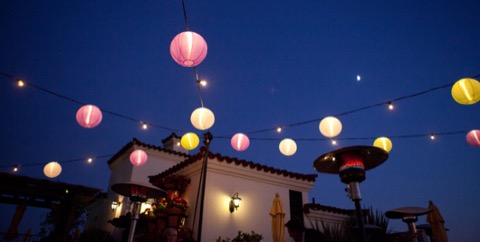 UPLIGHTING
Uplighting is one of the most popular ways to give your Wedding, Sweet 16, Corporate Function or other event something extra special. Imagine dancing the night away under a cool blue glow, or a mix of pink and purple, or any other color you can think of.
BISTRO & STRING LIGHTING
Bistro & String Lighting is a great way to get your event space glowing. The String Light Canopies are a great addition to any outdoor space that needs just that touch of lighting.
PIN SPOT LIGHTING
So you are spending hundreds on each centerpiece, and they look amazing? Well in a dark room no one will notice. With pin spotting they'll really stand out. What about your cake? Pin spotting will make that stand out and look one hundred times better.
COLOR WASH & ACCENT LIGHTING
Color washing is a great way to add the colors of your event into the lighting. You can have them in different areas around your venue in order to have your colors flowing throughout the room.
GOBO PROJECTIONS
Nothing has more class than You and your future husband/wife's name in calligraphy or in a monogram. Project your gobo monogram, on the dance floor, walls or … your ballroom to see your initials displayed in bright light on the dance floor. This is an elegant touch that can be added to any type of event.
DRAPERY SERVICES
Drapery is a great way to turn any space with unsightly walls into a gorgeous venue. In addition drapery adds a sense of elegance and romance to any venue.
MONOGRAM LOGO BRAND PROJECTIONS
Project a custom image, logo or monogram on a wall, floor or ceiling. This is a great way to display your company logo at a convention or a party. They can be customized specifically for your company or event and can be displayed in color of your choice.
ADDITIONAL DECOR
Looking to add a little bit of fun and flare to your event why not add Chinese Lanterns in a wide variety of colors and sizes. Throwing a Holiday Event we can provide Christmas lights to 4th of July flags.
Why choose My Event Kings for my event?
My Event Kings is determined to make sure you get the highest quality service for an affordable price point. We have been involved in the industry for years providing service from small backyard venues to being featured on hit TV shows such as My Fair Weddding w/ David Tutera, at venues such as the AT&T building in downtown LA.
How do I get an estimate?
Give us a call at (951) 402-2000, or you can also request a quote online via the Contact Us page. All over the phone or online quotes are free of charge…If your venue or project requires a site visit and plans to be drawn; we require a $100 – $200 deposit depending on the location.
How do I schedule my Event?
Once you have an estimate and you would like to book the event, Call in or email [email protected] with your deposit. We require a 50% non-refundable deposit for all events. This deposit will reserve your date, your installers as well as all your product and equipment. Final payment is due the day prior to your event.
What forms of Payment do you accept?
We accept all forms of payment, cash, check and any major credit card. (visa, mastercard, amex, discover, etc.)
What areas do you provide service to?
We provide service to Orange, Riverside, San Diego and San Bernardino Counties, delivery charges start at $75.00 for local deliveries and is determined by location, distance, time, and labor. If your area is not on the list give us a call and we may be able to accommodate. View our
map
to see if we cover your area.
What are your hours of operation?
Normal delivery hours are 9am to 5pm seven days a week. In order to accommodate strict venue load in and out times we can accommodate 24/7 if need be for an additional charge.
Do you have a minimum order size for lighting?
Our minimum order for lighting installation is $500.
Do you have a team that installs the lighting?
All lighting displays are full service installation, we do not rent lighting equipment or product for client installs.
What am I responsible for?
You are responsible for all rental items from the time it is delivered or picked up to the time it is picked up or returned back to My Event Kings. During this time, if the items are damaged due to weather, theft, misuse or any other negative factor, you are responsible to pay for the replacement of the items. Normal wear and tear is not considered to be damage. Each client will sign a release waiver at the time of acquisition.
Thanks for giving us the opportunity to make your event Amazing!